About Shameela
SHAMEELA – EMBRACE BELLYDANCE
Shameela's Journey
I started belly dancing almost 20 years ago. First of all it was out of curiosity and to meet some other women in my local area on the Central Coast of NSW. My curiosity soon turned into my passion and I realised I had found my one thing… (my calling so to speak.) It enabled me to express myself other then speaking or writing to express myself through my body movements in a way that I had never done before.
After an intensive training period learning mainly from teachers such as Tereska Drinszik, Jirisi and many others I started performing at local community events and creating my own choreographies and shows. And it was out of those performances that I started teaching. Generally after performing, local women would come up to me wanting to learn to belly dance. I started with 4 ladies in my lounge room at home and now I teach in a dance studio several classes a week.
In recent years I have studied Tribal and Indian/ Bollywood dance forms developing my own unique style of fusion designed especially for the every woman of today. Woman of today want more than an exercise class. They want to enrich their lives by learning about new cultures and different ways of self expression. They come to class not only to dance but to share a sisterhood and common interest with each other. They especially bond together when learning a dance for performance at our regular concerts throughout the year. It is inspiring to watch them all grow in confidence and in grace, expressing their spirit through the dance.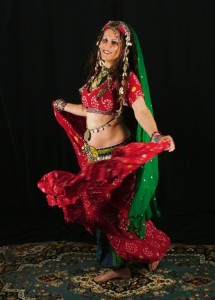 Shameela's Bio
Teaching on the Central coast for over 20 years Shameela brings her experience, knowledge and dance expertise to her classes and workshops. She teaches various dance styles including Oriental Belly dance, Bollywood, ATS Tribal and fusion styles. Shameela has been innovative bringing together her own unique Tribal Indian fusion style using Indian hand mudras, temple poses combined with funky ATS tribal moves.
Shameela is the principle founders of Embrace Bellydance school teaching many students on a weekly basis. Shameela empowers women by creating a safe dance space for them to express their femininity and sensuality. Her classes are intuitive and focused balancing technique with self expression.
As well as weekly classes Shameela organises student Concerts, Workshop Weekends and is involved in many local community events as a performer, organiser, teacher and choreographer. Shameela has performed professionally for many years creating shows and performing at small private parties to large festival events. During her bellydace career, Shameela has branched into Bollywood and Tribal Indian fusion styles as Indra Bellydance producing her first instructional dvd "The Eyes of Buddha". She has also presented a number of workshops at: Newcastle Bellydance festival, Sydney Middle Eastern Festival, Mid North Coast of N.S.W. festival, Peats Ridge Festival, CoastFest, Tribal Trance Festival to name but a few.